It's no secret that creating a stellar game from scratch is no easy feat – it's comparable to climbing Mt. Everest, in fact. Remember the movie Grandma's Boy where the main character, Alex, was basically producing his own game with triple-AAA level graphics and gameplay for the Xbox console? And when J.P. was shown a preview of the game, commenting "I like what you did with the bump-mapping"?
It doesn't work that way!
Though the movie itself was hilarious, the idea of creating a jaw-dropping 3D game, for a console no less, entirely by yourself in your spare time, is a pipe dream. Sorry for bursting anyone's bubble, that's really not my intention – I just want any would-be game developer to fully comprehend the hurdles of game development, especially if you're going it alone.
So for this article, I've compiled my recommendations for the best game creation software kits that meet a number of criteria, namely:
Free or budget-friendly

Beginner friendly or offers great tutorials

Royalty and licensing friendly, so maybe you can make a dollar or two from your creations.
Because if you look online, there's literally hundreds of game engines available – but you're not going to be developing the next Call of Duty on Unreal 3 engine after taking a Computer Science III class in high school.
With all that said, let's look at the list and in no particular order.

BuildBox's motto is to build games without coding. They compare it to being as simple as making PowerPoint slides. It primary focus is mobile games. Several Top 100 games have been built with Buildbox such as Color Switch, Damn Daniel, Slip Away, Ball Jump, The Line Zen, Phases and Endless Sky. There are no coding languages needed in order to use BuildBox.  Is has a very slick drag and drop UI.  Including a very nice Game Creator tool that allows to crate the base framework of your game. There are a ton of simple tutorials and guides on their site to get you started.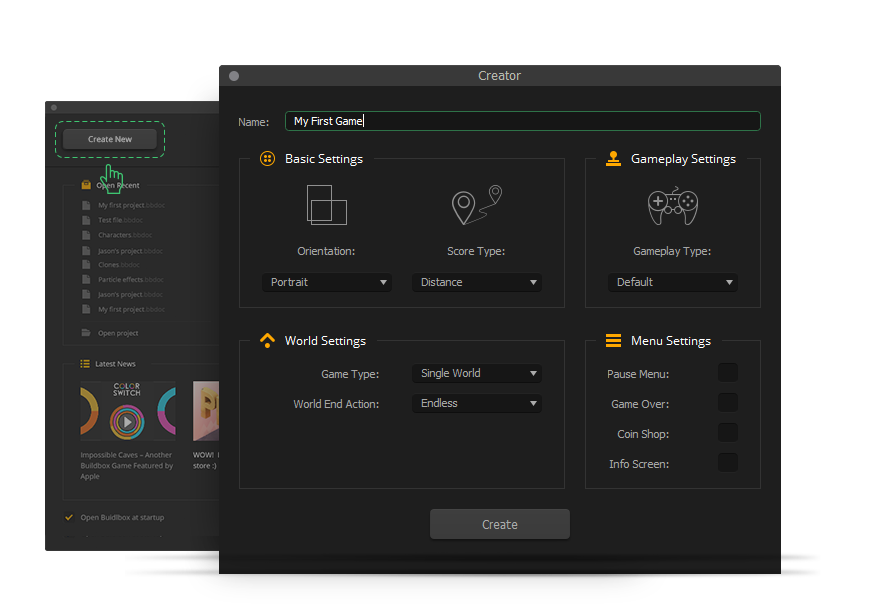 BuildBox also provides a ton of click to select settings to allow you to easily setup character settings, scenes, gameplay types and monetization settings and more..  The software provides thousands of assets to choose from or you can import your own.  It does not have a graphic editor, so if you want to do your own artwork you will need another tool for that.  BuildBox offers a game preview which allows you to beta test your game and squash any bugs that comes up with debug mode.  You can then export your game into any, or all, of the major app stores, Apple, Android, Windows, etc..)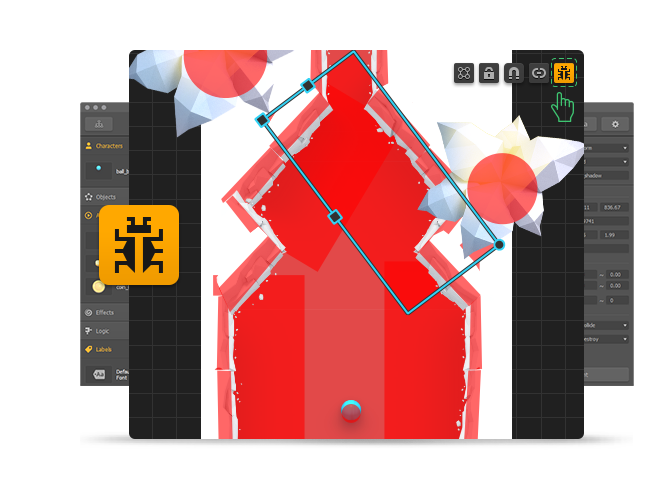 Pricing for BuildBox is a monthly fee to allow access to updates and the thousands of assets in their collection and offers a Royalty free license.  So if your game is a huge success you don't have to share the profits with them.
Io games are some of the simplest to design, yet can be fairly rewarding if you're lucky. You see, Io games are built almost entirely from vanilla Javascript and HTML5 – two of the simplest programming languages to learn. With a couple HTML5 and Javascript tutorials, you could develop and publish a handful of games within a month of your spare time. On top of that, there's a very real market for simple, addictive Javascript/HTML5 games – .IO games are especially hot in the market today.
Flowlab offers comprehensive video tutorials, a community forum for support, and a generous pricing system – the free version lets you create up to three games, but no export to mobile devices, whereas the $10/month license lets you create unlimited games, with exporting to mobile devices. But no matter which license you go with, no royalty is charged – you keep every penny you earn from your games. Flowlabs can be used to create anything from platformers to action games.
For a one-time payment of $80 USD, AppGameKit offers a royalty free, powerful game creation engine that supports BASIC and C++ languages. It supports a good range of the most popular 3D model file formats, such as .3ds, .md3, .blend, and a handful of others. You can export your games natively to mobile devices as well, and generate keystore files for publishing on Google Play.
AppGameKit has a great community and offers a wealth of tutorials, in fact it's even offered on Steam so there's a dedicated Steam community for users to get help and share their creations. So if you're looking for something with a dedicated community and a range of powerful features, AppGameKit is highly recommended by many sources.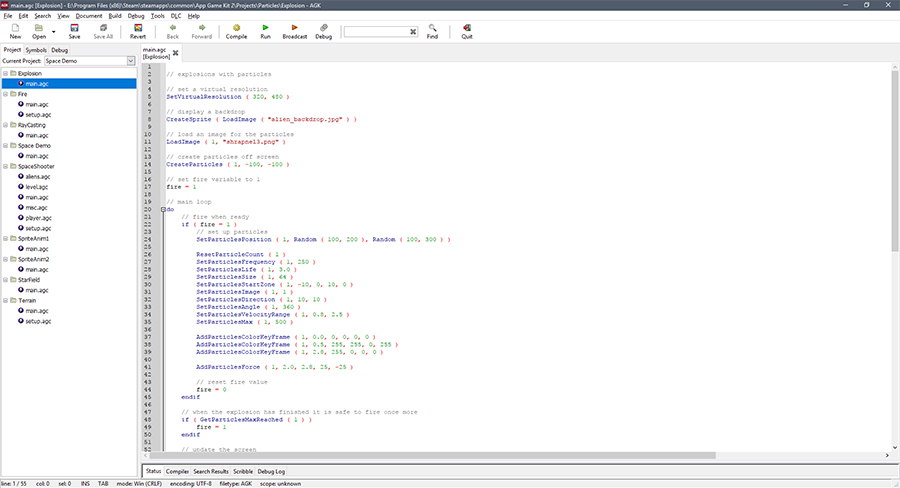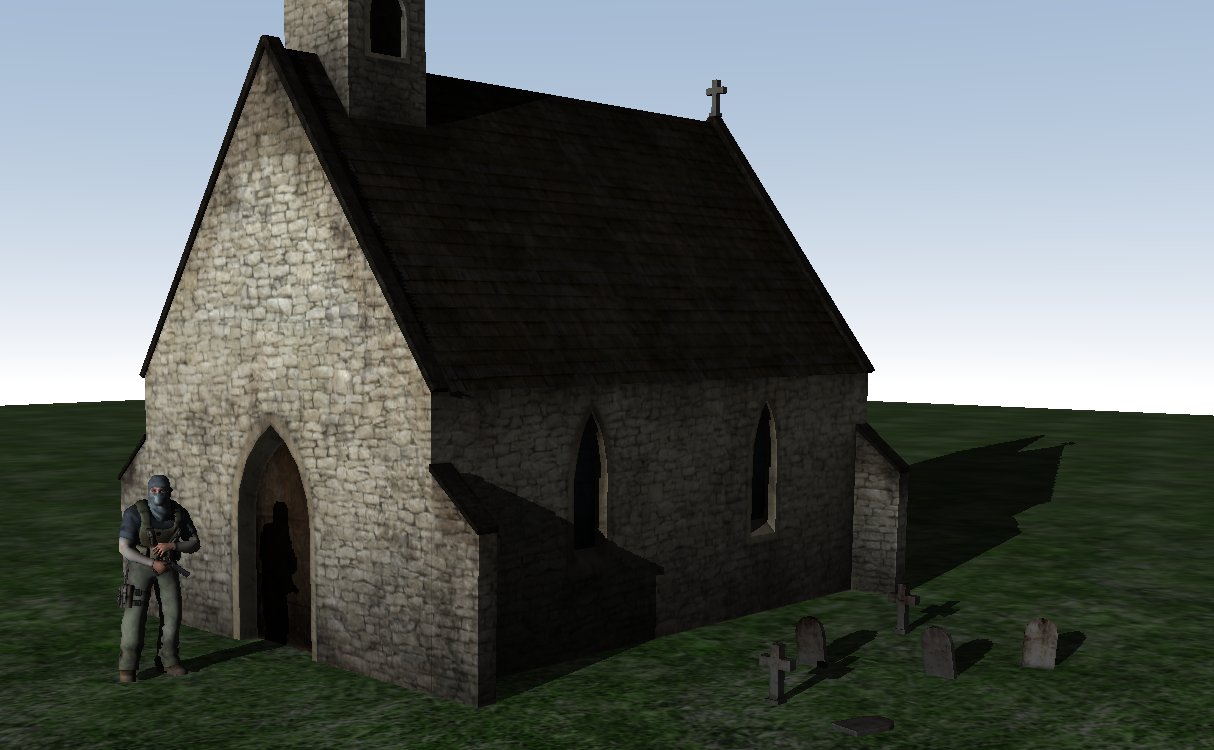 Another great-for-beginners software with a tiered licensing program, GameMaker: Studio utilizes its own programming language, called "Game Maker Language", which is similar to writing Python. The drawback is that the tiered prices aren't as budget-friendly as the other options on this list – the $100 license gives you all the premium features, but you can only design games for Windows/Mac/Ubuntu platforms.
If you want to develop for mobile games, you need to shell out $400 for the mobile tier. But whichever tier you choose, whether the lowest or highest, your creations are royalty free and you can keep every penny of your revenue.
As far as features, there's good and bad depending on your view. On the plus side, it offers a great visual studio, with in-app editing for graphics, levels, models, etc. So if you want to create everything from scratch inside the same engine with no 3rd party tools, GM:S is a choice candidate – but as far as scripting support, the native "Game Maker Language" isn't as fast as a compiled language like C++. On the other hand, GML is similar to Python which is extremely easy to grasp.
GameGuru is targeted towards first-person-shooter game development, but it does the job well. The engine can easily produce FPS games with graphics comparable to Oblivion / Far Cry 2 levels of detail, so your won't look like a 2001 PC-to-XBOX port – but they won't look like Crysis 3 either.
On the plus side, GameGuru offers a large marketplace where you can buy additional engine assets, such as 3D models, textures, and sound packs.
Unlike other game engines, GameGuru doesn't really operate on a "tiered" licensing program – it's a one-time purchase of $19.99 for the software, but you can purchase discounted bundle packs that include additional resources from the marketplace I mentioned earlier. Honestly for creating FPS games it doesn't get much simpler than GameGuru, with a couple resource packs you could create your own PvP deathmatch game in less than a day.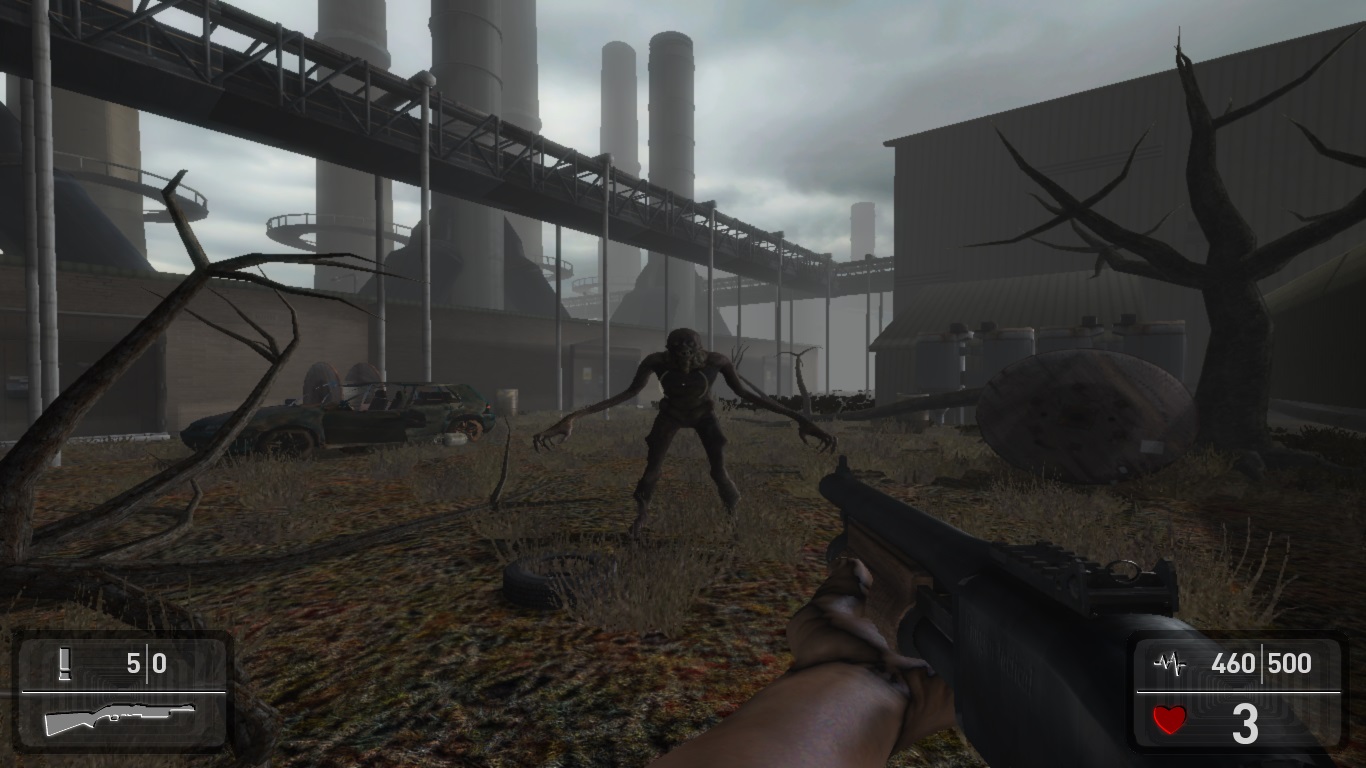 Construct 2 is quite a powerful little engine that was designed specifically for 2D-based HTML5 games. A little bit similarly to Flowlab, Construct 2 utilizes a WYSIWYG drag-and-drop interface for game creation. It comes with a bunch of plug-ins, visual effects, and other resources so that you can start creating a game right out of the box, and honestly, creation of a simple platformer title takes maybe 2 hours tops, if you have all of your resources ready.
Construct 2 offers a free trial, and if you like it, you can buy a tiered license – though the tiers may appear a bit confusing, as so many are offered on their store page. But the basic gist is that you're not allowed to earn any revenue from a free license. With an individual license for $129.99, you can earn up to $5,000 in revenue from your creations before you must subscribe to a business license, which costs $429.99. It's a fair deal, honestly – if you're making that kind of bank with your games, a few hundred dollars is no sweat.